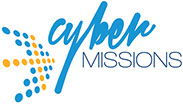 Insights for Eternity is a Christian bible-teaching radio program that broadcasts across Africa twice a week. Theologically, we are interdenominational, biblical, Trinitarian, and Spirit-filled.
The Insights For Eternity radio program is part of the ministry of Cybermissions an online Christian ministry that is registered in the state of Virginia (USA), our 501(c)3 is pending.

Rev. John Edmiston B.Sc. B.D. is the CEO of Cybermissions and the host of the Insights for Eternity radio program.
Contact: johned@cybermissions.org
Cybermissions
P.O. Box 40
Rhoadesville VA 22542
Phone: +1 310-844-6948 (Google Voice)
Get a very affordable Diploma of Biblical Ministries
online (Only $7 per subject) FOR INFO CLICK HERE